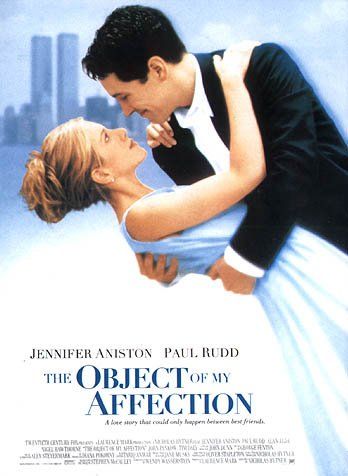 gugun wrote:

George Hanson (Paul Rudd), seorang guru taman kanak-kanak, berkenalan dengan Nina Borowski (Jennifer Aniston), seorang pekerja sosial khusus remaja, di sebuah pesta kakak tiri Nina, Constance. Mereka menjadi teman dekat sejak George memutuskan untuk berbagi apartemen dengan Nina di Brooklyn. Apa pasal? Dr. Joley (Timothy Daly), seorang dosen sekaligus pacar George, selingkuh dengan mahasiswanya. Pada awalnya pacar Nina, Vince (John Pankow) tidak mempermasalahkan nya, karena George seorang Gay. Tapi masalah muncul saat Vince tahu bahwa Nina hamil. Vince sangat marah!

Nina & George merasa bahagia tinggal bersama. Mereka sangat menikmati beberapa aktifitas bersama dan bahkan ikut kelas tari! Dalam sebuah acara di bekas kampusnya, George bertemu dengan Paul, mereka jatuh cinta. Padahal diam-diam orang tua asuh tempat Paul tinggal selama ini juga mencintainya. Disinilah di mulai kisah cinta segi banyak! He3x.

Nina memiliki pacar Vince, tapi terpesona dengan pribadi George. Vince yang merasa dicuekin
Nina,tertarik dengan teman George, Melissa. George yang mantan kekasih Dr. Joley, hanya menganggap Nina sebagai teman baik, memilih mencintai Paul. Paul mencintai George, tapi dia tidak ingin menyakiti Rodney, dosen sekaligus orang tua asuhnya. Pusiiiiiiiing. Tapi itulah cinta. Kadang kita tidak bisa memilih orang yang kita cintai. Kadang kita cinta, dia tidak. Dia cinta setengah mati, kita emoh!

Hahahaha.

The Object of my affection, atau bila diterjemahkan secara bebas berarti objek kasih sayangku, asli film komedi romantis! Lucu tapi kadang mengharukan. Lihat saja saat di sebuah pesta pernikahan, Nina menangis di depan George, menyatakan betapa cintanya dia pada Geroge. Namun, walaupun George sangat menyayangi Nina, dia lebih memilih Paul.



Nina: I want you to be with me, I want you to marry me, I want you to love me the way that I love you.
Nina: Tell me, what do you want?
George: I want Paul..
Nina: I want to look at you and not feel so hurt by you.


Lalu, siapakah ayah dari anak yang di kandung Nina? Bagaimana akhir hubungan antara George, Nina, Dr. Joley, Vince, Paul, Rodney, dan Melissa? Tonton aja ya. Jangan lupa: siapkan popocorn & coke, atau singkong rebus an teh manis hangat boleh juga! ;-)

gugun
gmovies multiply com


pippo wrote:

coba baca buku
Being Ing karya Ucu Agustin
tu juga ttg ce yg jato cinta ama co gay